Creating Ideal Curriculum
Objectives of the JA Careers in Skilled Trades Platform and Curriculum Include:
Promote a positive outlook about the skilled trades ​
Identify how student interests align with skilled trades ​
Explore diverse careers in skilled trades concentrating on four sectors​

Construction
Manufacturing
Transportation
Service

Learn and understand the technical and employability skills needed for successful employment ​
Demonstrate how skilled trades strengthen communities ​
Accent and complement, not compete with, current training and educational programs and platforms​
Serve as a feeder into current apprenticeship and other training and employment opportunities​
SKILLED TRADES CURRICULUM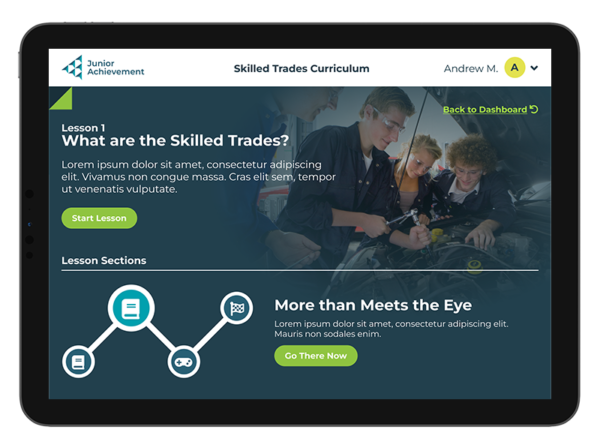 Curriculum Will be Organized by:
 Skilled Trades Unit > Chapters > Lessons > Activities > Artifacts
The initial curriculum will be designed as a formal introduction to the skilled trades for students in grades 5-8. This will create a foundation of understanding to build upon as the curriculum evolves. Future phases will include advanced chapters and game play for students in grades 9-12.
The Proposed JA Careers in Skilled Trades Platform Curriculum:
Introduction to the Skilled Trades
Curriculum Artifact Examples