LAYING THE FOUNDATION
FOR SUCCESS
The HCD research led to foundational building blocks that can now be built upon and scaled as necessary across the region and country.
Spring & Fall 2023:
Learn & Play
Playtest with students in grades 5-8 in a handful of schools
Pilot-test Careers in Skilled Trades platform
Begin virtual reality simulations in classrooms
Expand roll-out to additional schools in the Junior Achievement of Western PA footprint
Expand the platform experience to add additional courses
Expand access to the platform for students beyond the Junior Achievement of Western PA region
With your help, the JA Careers in Skilled Trades Platform will become a modernized learning management system solution that will look to reach, engage and inspire today's students in their skilled trades awareness and understanding — no matter their grade level or baseline understanding.
The platform will provide access for students and their parents/caretakers, facilitators, and counselors so all circles of influences can stay informed of individualized student progress and performance.
Key experience components:
Fully digital, online experience with opportunities for offline engagements
Reimagined user-friendly learning platform
Personalized student and facilitator dashboards
Enlightening curriculum with interactive components
First-hand and authentic video stories from local industry professionals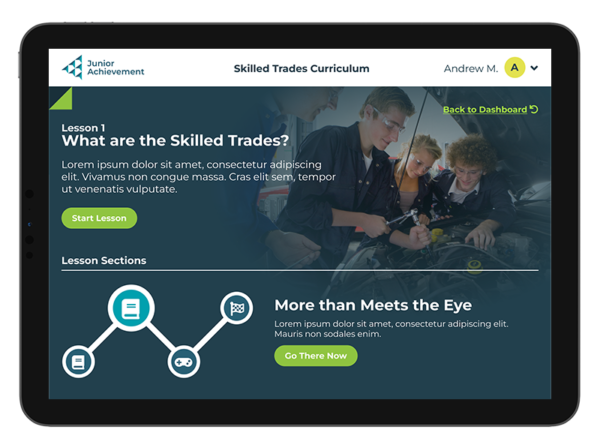 Future HIGH SCHOOL Expansion
Students grow, and this platform will be designed to grow hand-in-hand with them, enhancing their classroom experiences and knowledge of these essential industries. The Skilled Trades platform will progress to accommodate students and their evolving interests, skill sets, learning preferences, career aspirations, and more.
With the guidance of additional HCD research and learnings applied from the rollout to middle school students, high school students will:
Be introduced to advanced chapter(s) to build upon their Skilled Trades understanding
Gain access to enhanced gameplay such as with virtual reality (VR) 
Receive specific trade tracks in partnership with local trade schools and apprenticeship programs to dovetail content coverage and provide opportunities for hands-on experiences